Details
On 9th February 2022, Singapore Thong Chai Medical Institution (STCMI) held its appreciation event to thank the directors and staff for their hard work and dedication during this pandemic. In consideration of the current Covid-19 situation and safe management measures, the event was spat into 2 occasions which were located at the auditorium hall and 2nd-floor lobby. It was well attended and supported by a total of 15 directors and 84 staff. Physician Lim Weihan and Physician Tan Hui Chin were the emcees of this event. There is only some festive and soft music provided on that night because live performances are currently not allowed due to this pandemic. During STCMI Chairman Mr. Yeo Eng Koon's welcome speech, he mentioned the significant challenges STCMI is expected to face in the upcoming years. He expressed the institution's gratitude to those who attended the event, as well as thanked the board for pushing the organization to a bright future, he also thanked the staff by recognizing their contribution. Moving on to a new chapter, he promised that STCMI will continue to uphold the vision and mission of the institution in providing free Traditional Chinese Medicine (TCM), leading the organizations to greater heights in the years to come. After his speech, 6 STCMI physicians received their Certificate of TCM Professional Title from Chairman Yeo and Vice-Chairman Teo Kek Yeng. The certificates were presented in recognition of the physicians' clinical competency, experience, research skills, and contribution to Thong Chai over the years. The awards of Deputy Chief TCM Physician were received by four physicians, namely Ms. Tan Choi Tip, Ms. Soh Ah Hong, Ms. Tan Kah Hong, and Ms. Shiah Yu Wei. While the Attending Physicians were Ms. Tan Poh Kee and Mr. Lim Weihan. Afterwards, Honorary Secretary Mr. Low Then Whee and Honorary Treasurer Mr. Kwa Soon Yau also presented a 10-Year Long Service Award to Principal Medical Officer Ms. Zheng Huang Fang and Store Keeper Mr Liew Yow Yoon for their loyalty and consistently pushing the bar. The best part of the event will be the 'God of Fortune' who dressed up by Vice-Chairman Mr. Lim Tiang Chuan and joined by another 4 little Gods of whom, Physician Ong Si Yu, Physician Leong Jia Juin, Physician Lim Yubin, and Assistant Accountant Daniel Guan together hosted the lucky draw session. Guests were entertained by its surroundings and the generous prizes. The event climaxed when TCIMR Assistant Honorary Treasurer Mr. Khoo Boo Liat and STCMI Assistant Honorary Secretary Mr. Lim Hwee Hai went on stage to present the Best Dressed Award to the winners. Following by Honorary Secretary Mr. Low delivered his heartfelt speech. He thanked all the directors and staff for overcoming the hardships together in the past. At the same time, encouraged Thong Chai family continues to move forward in the coming year.The event ended in a harmonious atmosphere. Towards the end of the event, emcees thanked all the attendees, also appreciates Chairman Yeo for contributing the catering, as well as Head, General Affairs Committee Ms. Ng Puay Cheng who sponsored the elegant flowerbed arrangement. Additionally, a special thanks to the board of directors for unwavering support. The event concluded successfully.

Welcome address by Chairman Yeo Eng Koon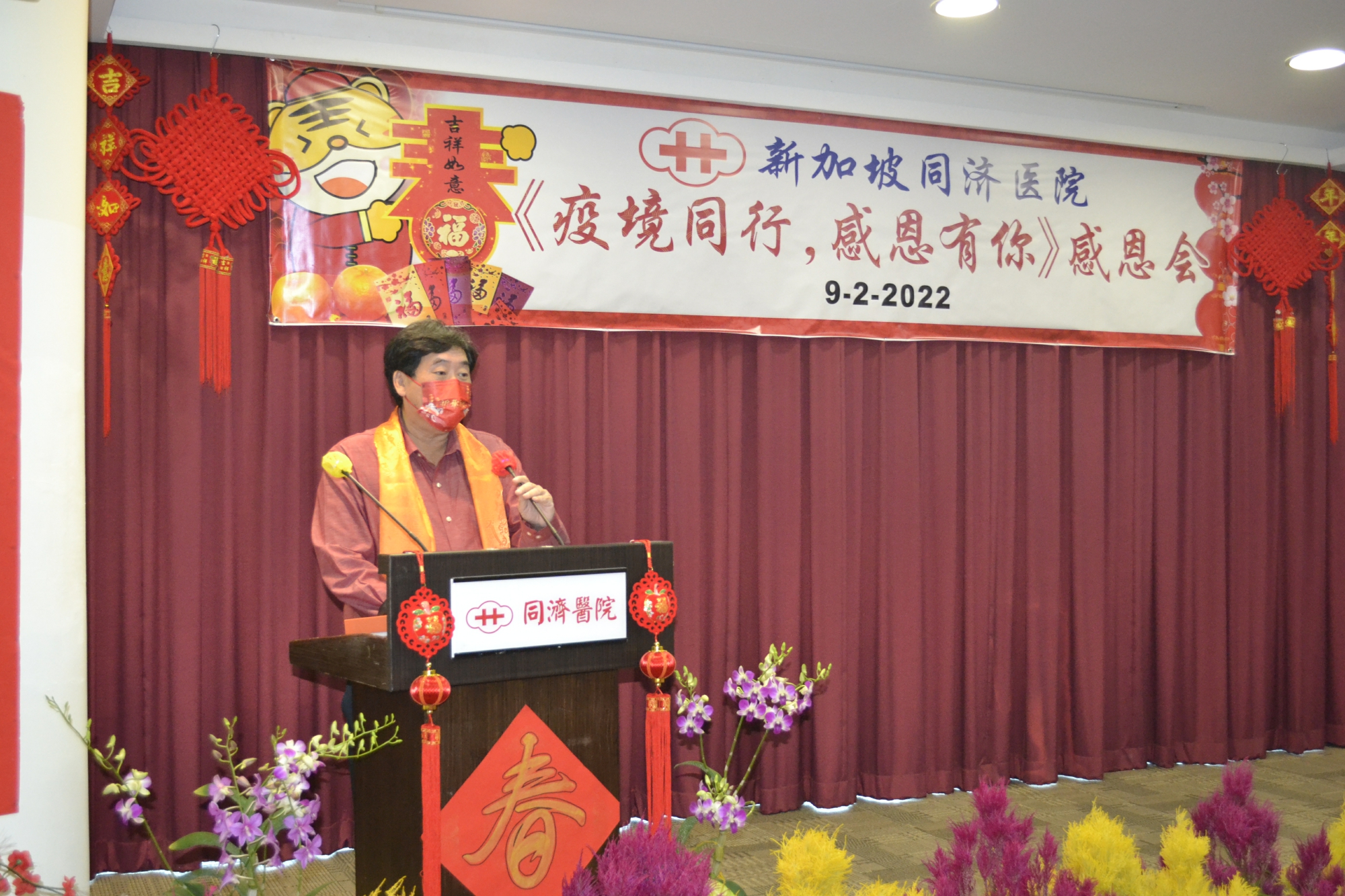 Chairman Yeo and Vice-Chairman Teo Kek Yeng presented Certificate of TCM Professional Title to physicians.
Tan Choi Tip, Soh Ah Hong, Chairman Yeo Eng Koon, Vice Chairman Mr. Teo Kek Yeng, Tan Poh Kee, and Lim Weihan.(From Left to Right)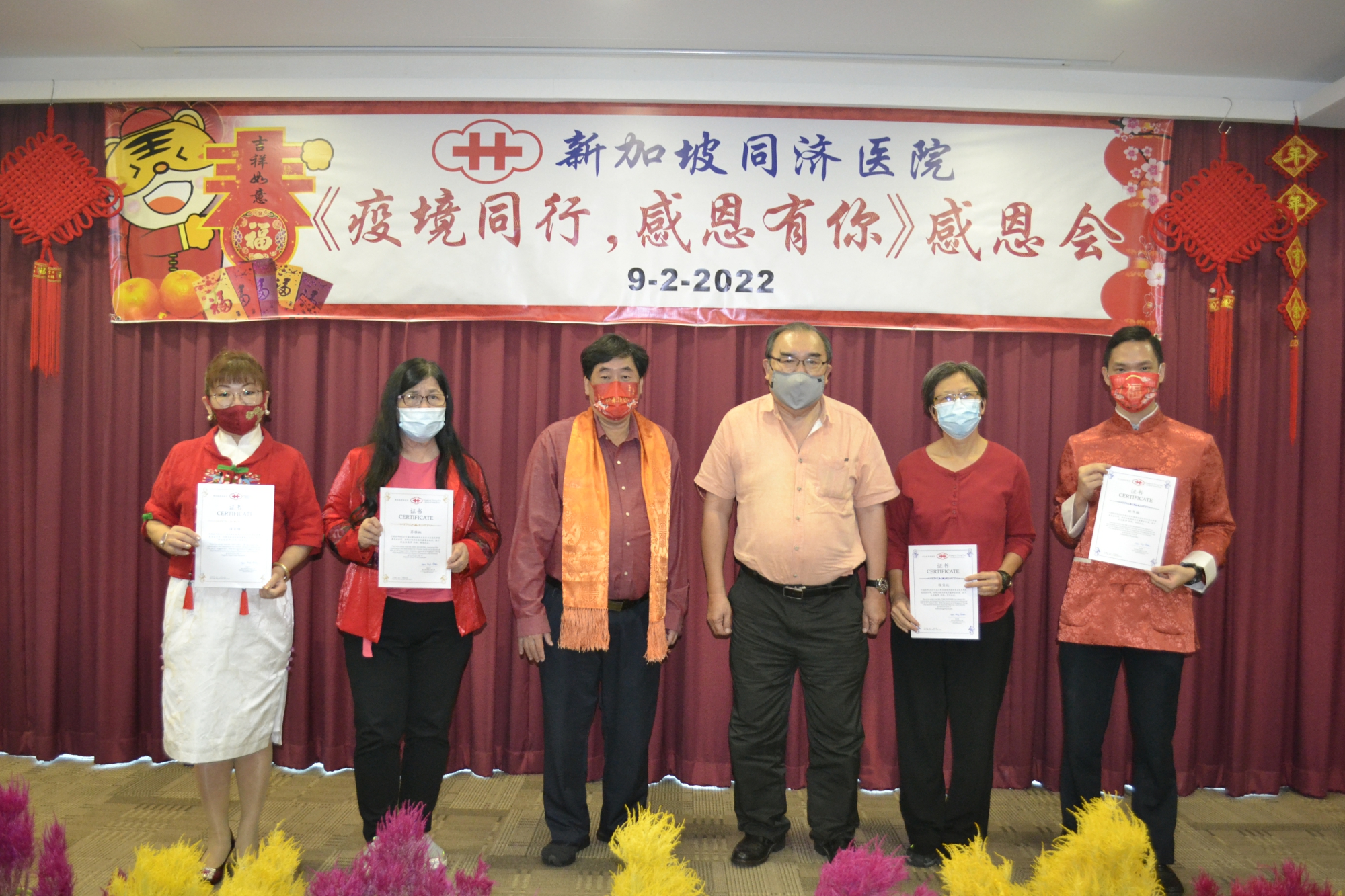 Honorary Secretary Mr. Low Then Whee and Honorary Treasurer Mr. Kwa Soon Yau presented the 10-Year Long Service Award to two staff.
Liew Yow Yoon, Honorary Secretary Low Then Whee, Honorary Treasurer Kwa Soon Yau, Zheng Huang Fang (From Left to Right)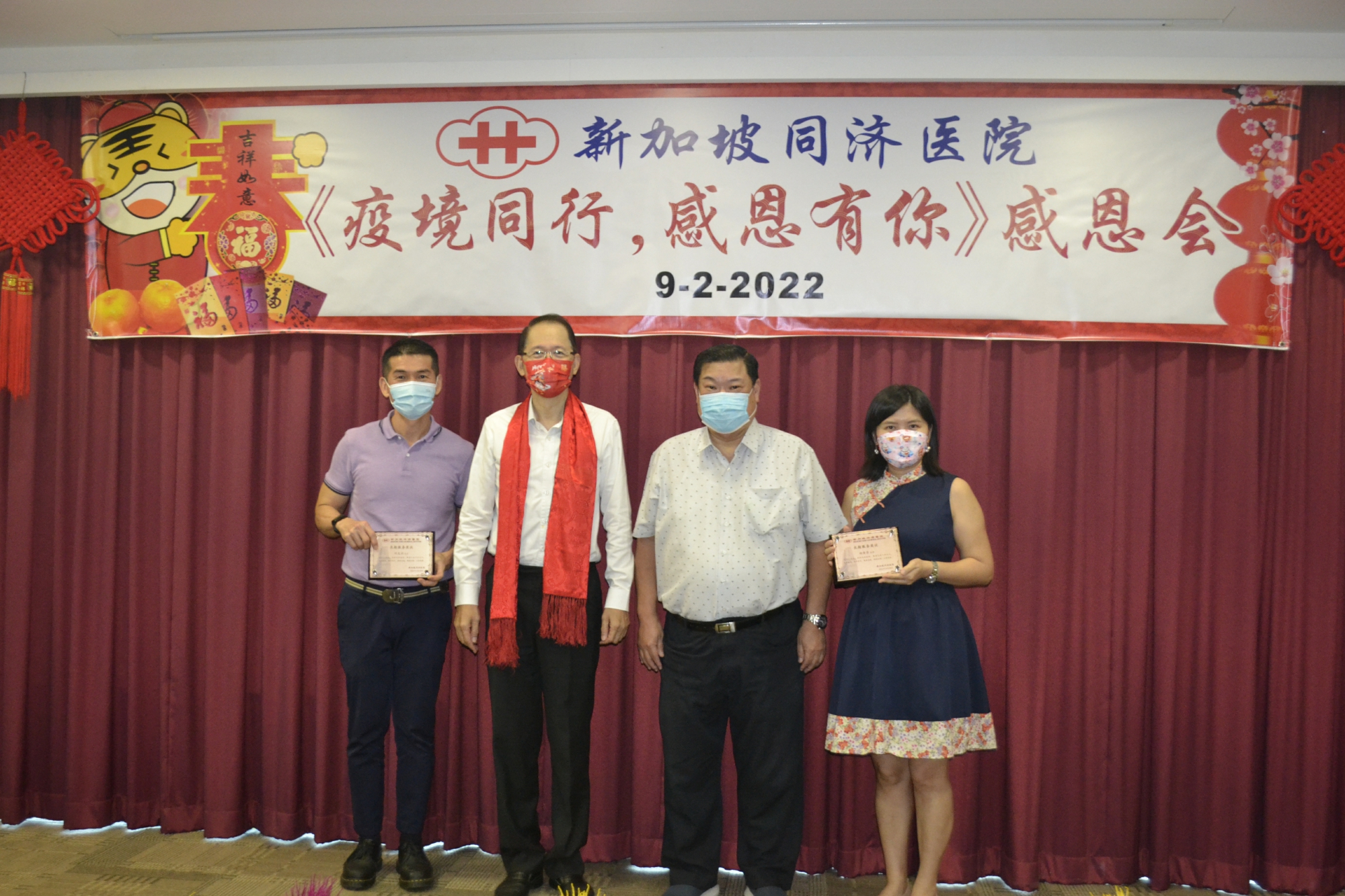 Address by Honorary Secretary Mr. Low Theng Whee